AUDIO
AUK Studios are excited to present to you the following initial audio drama and audiobook productions they have created!
Venna's Planet is the story of Venna 8632, a strong-willed, highly skilled, soldier-drilled woman on a mission in outer space, where gravity keeps you perky and the future appears to be rather retro. She's a crew member of the Suntreader, which has been travelling for 50 years (mostly with her occupants in cryogenic hibernation) in order to find a new planet to colonise.
Tired of playing shoot 'em up with aliens, Venna yearns to settle on the newest planet the Suntreader has been orbiting – a world they have named Promise. Unfortunately, the only promise Venna is living on is the continuation of a futile war with the current inhabitants – the Krogs…and that's reached somewhat of a predictable stalemate.
Combining the episodic thrills of classic film serials such as Flash Gordon or Buck Rogers with the free-wheeling 1960s spirit of Barbarella, Venna's Planet is a full-cast audio drama adapted from the popular graphic novels written by Robin Evans. AUK Studios are proud to announce Venna's Planet the audio drama!
Set in 1930s New York, Art Hardwicke is the hot sensation in the cabaret circuit, an urbane illusionist who goes under the stage name of Supermind – hinting at his real-life mentalist powers. Lady Daphne Witcombe is Art Hadwicke's manager who aids him on his adventures, and manservant Frampton. He fights crime and injustice whenever and whatever situation he finds himself in. Starring Colin McFarlane, Toyah Willcox, and Julie-Ann Deane.
Voices of Dracula, brought to you by AUK Studios, in conjunction with StokerVerse. A thrilling new audio series out now! Narrated by some of the leading voice actors of today, Stoker's short stories are dark, twisted and of course hugely entertaining. Simon Templeman (Legacy of Kain, Dragon Age, Dead Space 3, Charmed and so much more) plays Dracula, with all the expertise and finesse one would expect from such a lauded performer, whilst Claudia Christian (Babylon 5, 9-1-1, Disney's Atlantis: The Lost Empire) is the mysterious Thief. TV's sixth Doctor, Colin Baker (Doctor Who, Kingdom, Hustle), masterfully narrates vampire hunter Van Helsing's stories, whilst Terry Molloy – most famous for playing the Doctor's on-screen nemesis Davros – takes the part of Renfield. Jessica Martin (Doctor Who, The Sandman) completes the line-up as Mina Harker.
There Used To Be A Me examines the mind of an eccentric and at times, cruel mind, examining the pressures of tortured imagination when given complete control. Only one person could undertake such an incredible role, a solo performance by Alfred Molina. Well known for playing Marvel's Dr Octopus, this comic fantasy re-constructs what may have been, a documentary on his own life told through his own eyes.
Aside from appearing together as the leads in the movie Carry On Screaming!, comedy legend Kenneth Williams and iconic actress Fenella Fielding had a love/hate relationship lasting over several decades.
Screaming Queens!, a full-cast audio drama from acclaimed comedy historian Robert Ross, takes us from the duo's hit West-End revue together Pieces of Eight (written by Peter Cook), to behind the scenes of the classic and best-loved Carry On film that spoofed Hammer Horror's output, before finishing with a poignant meeting in the final year of Kenneth's life where they debate their enduring legacy and what it means to them.
Screaming Queens! is a what-if fantasy. A three-act, two-handed snapshot of a complex, bitchy, and completely unique friendship, seen through the prism of the stages of London's West End and the movie sets of the classic Carry On film franchise.
Richard O'Brien from Rocky Horror Picture Show and Sophie Aldred from Doctor Who star in The Barren Author inspired by the stories of Baron Munchausen by Rudolf Erich Raspe. 'The Barren Author' audio series takes a satirical twist on the stories of Baron Munchausen, in an absurd spirit of the classic tales.
Comedy genius Marty Feldman found stardom in his first Hollywood role in Mel Brooks' Young Frankenstein. However, it took Feldman twenty years to land a role, after struggling in variety shows, then to a prolific scriptwriter and a television star. Jeepers Creepers tells the story of Marty Feldman and his wife Loretta by his side. Discussing the rise and fall of Marty Feldman, with Wink Taylor playing Marty and Jessica Martin as Lauretta.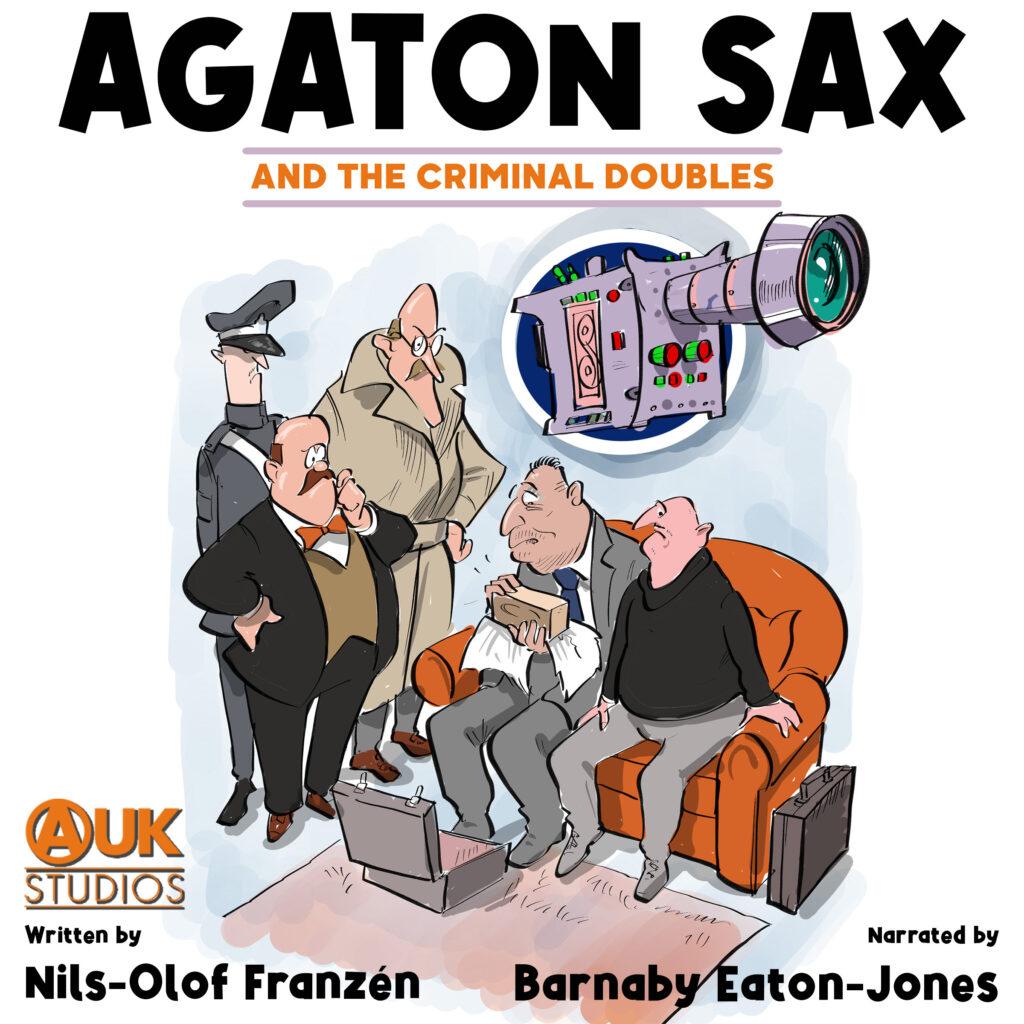 Agaton Sax and the Criminal Doubles
Agaton Sax and the League of Silent Exploders
Agaton Sax and the Scotland Yard Mystery
Agaton Sax and the Diamond Thieves
Agaton Sax and the Big Rig – Agaton Sax and the Colossus of Rhodes – Agaton Sax and the Max Brothers – Agaton Sax and the London Computer Plot
Agaton Sax and Lispington's Grandfather Clock – Agaton Sax and the Haunted House – Agaton Sax and the Cashless Billionaires